Various schools
The 10 rules for changing reality are at <Anju therapy Workshop>
Lessons that make your dreams and hopes a reality. Available from levels 1 to 10.
You can take classes in remote areas, in your area, or at an angel store in Asia.
The need of the workshop
I have been able to see the light coming out of my hands since I was 35 years old. When exposed to the light, the mind and body are healed and the healing power increases.
Spread the light!
This strong message was responsive around the age of 40. "It's time for parents to kill their children. Spread the light and save your children!" The power of me alone is too weak! Feeling that way, I figured out a way for many people to give out light. It became a form under the guidance of the guardian spirit. That is the workshop we are currently holding. The light coming out of my hand looked like a laser beam, golden fine particles, or the color of a rainbow. I realized that "The light certainly comes out!" "And it is there to change the human soul!"
To spread the light!
The world is heading for danger faster than I expected. I want more people to be able to shed light sooner and control conflicts, epidemics and disasters! I hope so.
Waves of the earth
I can see the earth that has become miserable. In the human body, the eyeballs seemed to come off, the hands were burnt, and the legs were cut. At this speed, the Earth's vibrations go crazy and head for ruin. I want to regain the vibration of the earth with like-minded people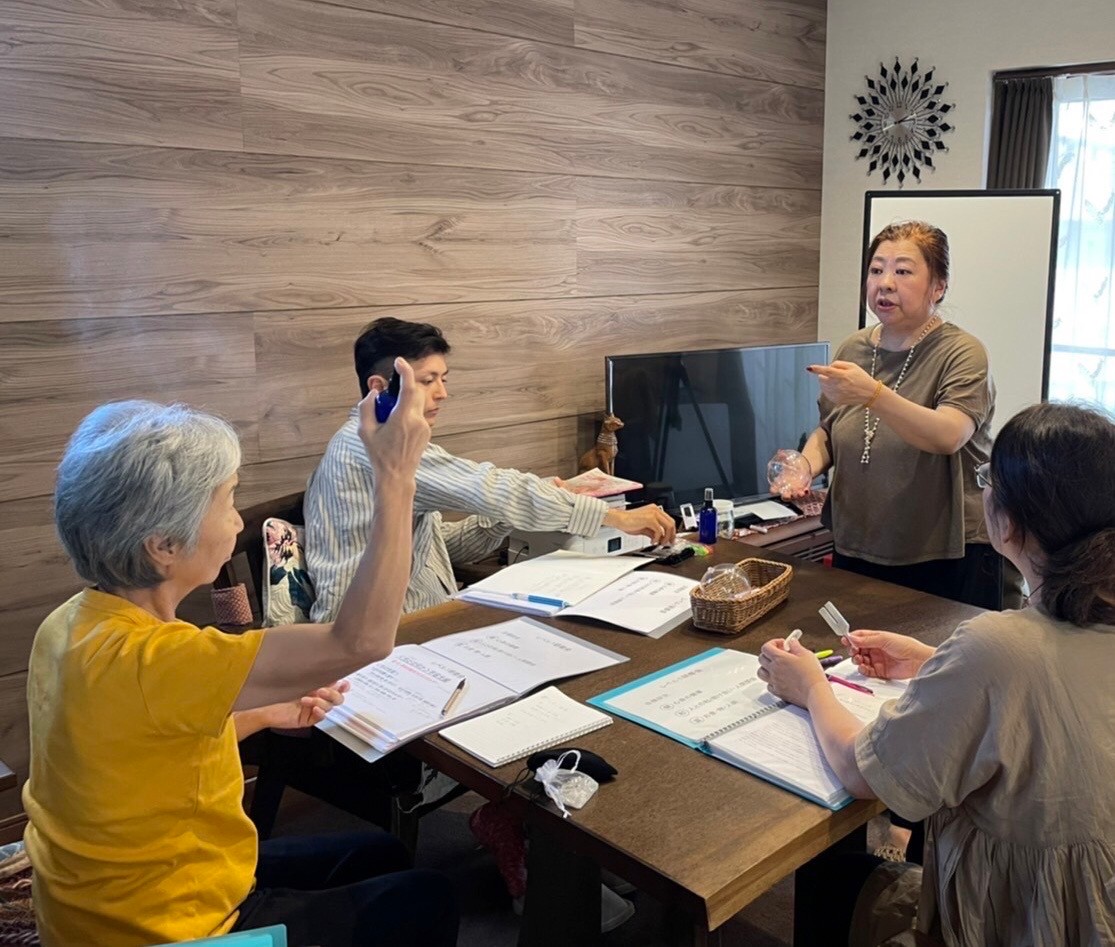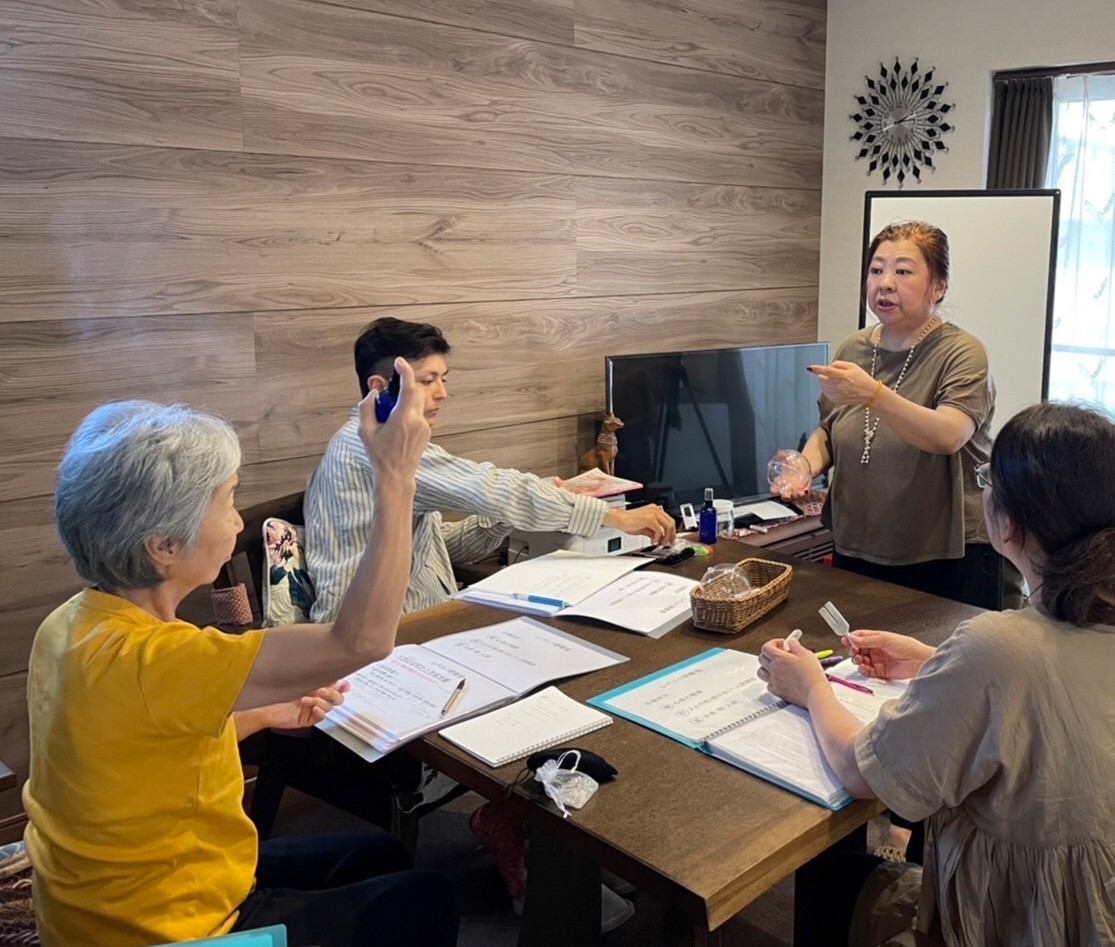 Impressions from students
After participating in <Anju Therapy Workshop>

I'm used to emitting light myself, and I think it's moving in the right direction.

And the aura spray I got when I attended became one of my favorites.

I will continue to shed strong light on myself, my family, the people around me, the community, the environment and society.

K.E Female, 20s Niigata Prefecture
After attending level 3

Good evening Anju!

Thank you for the workshop the other day. The remote workshop was fresh and fun.

The most memorable thing about the remote training was <My body is a gift from God. > Was the word.

Until this age, I lived healthy without any major illness. I was able to work every day and did what I liked.

I thank my parents for giving me good health and God for giving me this body.

One of our goals was to give back to God without making this body worse or chipped.

I felt inferior to this body, but I was able to think that I was happy with this body.

I feel that my wishes are too big for other people's dreams and goals, but I would like to move forward steadily.

I always want to be a person who never forgets gratitude.

I don't forget my favorite and emotions, And I always want to make the forehead chakra shine.

I will do my best to charge the chakras with energy!

N.R Female 40s Obihiro, Hokkaido
10 rules that change reality

The motivation for attending the "Anju therapy Workshop" was that I wanted to know the mechanism of cosmic rays, the spirit world, and the divine world, and why I was born. When my cat got sick, Ms.Anju did therapy my cat.

At that time, a sick cat lying down approached Ms.Anju and I was surprised. My mother-in-law had Ms.Anju do the therapy two days before her death. And the whole family was able to say goodbye without delay.

To find out my purpose in this world, I train my soul through workshops and therapy.

male 50s Iwate Prefecture
Numerology individual lesson course
Know yourself and know the other person!
The secret of numbers that is said to have been invented by Pythagoras.
It's surprisingly easy to understand.
And the application is perfect!
If you understand the flow of your life and its characteristics, you can understand that "Yes! If you do this at this time, it will be smooth!"
"Because I did something like this at this time, I've always been in a slump. Let's make use of this year's numerical energy to recover."
You can also say that! ️
Because you can make your own destiny
▪You will be deeply convinced if you understand the mystery of human relations with numerology.
・ I can't understand even though I'm a parent and child.
・ I want to know more about my partner.
・ I want to facilitate communication with my boss and subordinates.
・ I want to understand the people around me, etc.
Why don't you have fun solving the mystery in the numerology individual lesson course?
Numerology individual lesson course
①Know oneself
Read and solve talent, character, constitution, an occupation.
All 4 times 44, 000 yen (including tax)
②Know oneself and a partner
Even if an affinity is bad, please do not worry!
I advise the words that your partner is pleased with.
All 8 times 88, 000 yen (including tax)
③Know oneself with the neighboring human relations
To build good relationships with family and workplace.
All 12 times 110,000yen (including tax)
* Face-to-face or online lessons.
Remote therapist training
You can do remote therapy as a job at your favorite time while you are at home.
Heal yourself, heal your customers, and earn income.
One of the professions needed in the coming era.
The age which can be attended is more than 20 years old.
There are no upper limits.
Spiritual therapist training
For those who want to become independent or start a business
For those who want to be a worker for the harmony and beauty of the world
I will generously provide and pass on my knowledge and skills.

If you are interested in various schools, please request materials from the inquiry form.
Please enter your desired school name in the subject line.
And please also set the reception from our shop.
Talk show
Preparing for the future. / How to use space rules for economic development. /
Method and meaning of ancestral memorial services in Asia. / Animal feelings. /Parent-child counseling room. / Trouble of love. /The troubles of the bride and grooms mother /other
Please click here for writing, radio, and event appearances
Asian Angel Okinawa store ✉asian-angel-okinawa@outlook.jp